Courtesy of:
John H. Keefe III, D.C.
(918) 663-1111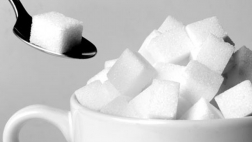 IN THE NEWS: Type II diabetes is a growing epidemic how much sugar do you eat each day?
Snickers bar (52.7 grams) – 6.75 teaspoons of sugar, Milk chocolate bar (44 grams) – 5.75 teaspoons, Milky Way bar (58 grams) – 8.75 teaspoons, 3 Musketeers bar (60 grams) – 10 teaspoons, Coca-Cola (one can) – 8.25 teaspoons, Pepsi cola (one can) – 8.75 teaspoons, Mountain Dew (one can) – 11.5 teaspoons, Cheerios – 1 teaspoon, Corn Flakes – 2.4 teaspoons, Shredded Wheat – 0.1 teaspoons, Cocoa Krispies – 9.75 teaspoons, Froot Loops – 10.5 teaspoons, Raisin Bran – 7.75 teaspoons, Chocolate mousse (1 medium portion) – 3 teaspoons, Donut (1 jam doughnut) – 3.5 teaspoons, Fruit pie (1 medium portion) – 3.5 teaspoons, Fruitcake (1 medium slice) – 5 teaspoons. "While cereal companies have made small improvements to the nutrition of their child-targeted cereals, these cereals are still far worse than the products they market to adults. They have 56 percent more sugar, half as much fiber, and 50 percent more sodium. The companies know how to make a range of good-tasting cereals that aren't loaded with sugar and salt. Why can't they help parents out and market these directly to children instead?" Eat real food to stay healthy.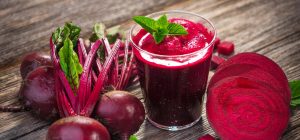 WELLNESS: A Glass of This Vegetable Juice Causes Your Blood Pressure to Drop Within Hours Raw beet juice has been shown to lower blood pressure thanks to naturally-occurring nitrates that are converted into nitric oxide in your body. Nitric oxide helps relax and dilate blood vessels, improving blood flow. Beet juice can also boost stamina during exercise by as much as 16 percent, and has been shown to improve muscle capacity in people with heart failure by 13 percent. Fermenting your beets gives you all the health-boosting benefits of raw beets — which are made even more bioavailable through fermentation — plus the beneficial bacteria and enzymes that result from fermentation.
CHIROPRACTIC: Natural healthcare versus drug therapy How many drugs does it take to cure arthritis, diabetes, heart disease or even a headache? The most drugs can do in these conditions is to relieve some of the symptoms. Science has confirmed that lifestyle issues are the number one cause of disease and those factors include diet, exercise, smoking, and injuries/subluxations among others. The longer you hold off treating the cause of your disease you just gives that disease time to get worse. Painkillers for arthritis don't stop the developing arthritis plus time is a friend of disease, any disease. Chiropractic and natural healthcare work at the level of causes not symptoms. For instance let's take headaches, there can be different causes for headaches but the reason that research shows chiropractic is the most effective treatment on the planet for most headaches is that most headaches come from nerve pressure in the neck. How many aspirin does it take to move a vertebra that's out of place in your upper neck back into place? Of course aspirin can't do that. Chiropractic works with establishing proper communication between your organs and glands and the master control system of the body the brain and spinal cord. This communication reestablishes normal function and normal function is the key to good health. When you add proper diet, exercise, rest and relaxation and a positive mental and spiritual attitude you develop the soil for good health. Do you know someone who suffers from a chronic disease? Have you told him about chiropractic?
FUNNY BONE:  For a period, Houdini used a trap door in every single show he did…I guess you could say it was a stage he was going through.@@ How is Christmas like your job? You do all the work and the fat guy in the suit gets all the credit@@ Q. How much room is needed for fungi to grow? A. As mushroom as possible @@Q: What's Forrest Gump's password? A: 1forrest1@@ Barrack Obama and Sarah Palin were sitting by each other on a plane. Obama thinking Palin was a redneck thought he could make some easy money by tricking her into playing a game. He told her," If I ask you a question, and you don't know it, then you pay me five dollars. If I don't know one of your questions, I'll pay you FIVE HUNDRED dollars. Palin agreed and Obama began the game by asking, "How many miles is it from the Sun to Jupiter?" Not knowing Palin paid him five dollars. Then Palin asked Obama," What goes up a hill with three legs and comes down with four? After long hours of researching and consulting everyone he knew… he finally gave up and paid the five hundred dollars to Palin. Then Obama asked, "So…what's the answer. What goes up the hill with three legs and comes down with four? Palin handed him five dollars
Web site: keefeclinic.com & facebook/keefeclinic.com